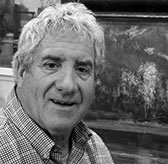 Gil Dellinger fell in love with the Central Oregon landscape and has recently relocated to Bend from California. As a professor of art at the University of the Pacific he mentored many artists and built a solid national reputation for his landscapes, working in soft pastel, oil and acrylic. Painting from life, his artwork captures the majesty of our land from ocean to mountains to desert. Gil's images of Yosemite are featured in the 2013 hardback edition of Art of the National Parks with his art gracing the cover. He is a signature member of the California Art Club, current president of PAPA (Plein Air Painters of America), and  teaches workshops locally and throughout the country.
Gil graduated from SanFranciso State University in 1971 with an MFA in the Creative Arts.  He initially worked for the Haggin Museum in Stockton Ca. and started their art docent program before moving to the University of the Pacific where he taught drawing, painting, design and figure drawing for thirty years. During that period he had an active exhibiting career, and in 2001, he retired  from the university to paint full time. In 1997 he was chosen to go to the Forbes ranch in Colorado to paint with 25 other artists, and then in 1999 to go to the Forbes Chateau in Normandy, to work with the same group. A subsequent trip down the Colorado River through the Grand Canyon, resulted in freindships and partnerships with other artists that culminated in the bringing together the east coast artists and west coast painters in an exhibition at the Haggin Museum featuring 25 artists painting Yosemite. He and John Cosby then curated a traveling Museum show entitled Sea to Shining Sea, which featured 50 artists from around the country.
Gil has been part of nearly 400 group and one person exhibitions since 1976, and has had featured articles in Southwest Art, American Artist, The Artists Magazine and Plein Air Magazine. He works in pastel and acrylic, and a new book on his work, Light, Glorious Light,  features paintings in both mediums.
He and his wife Alexa have four children, all grown.
Awards: Univ. of Pacific Distinguished  Faculty Award., Master Pastelist Pastel Society of America, Star Award,  Stockton Calif.  for Contribution to the Arts. Various Artist Choice Awards; Plein Air Competitions.  Feature Articles, American Artist, Southwest Art Magazine,  American Art Collector Magazine, The Pastel Journal,  and Plein Air Magazine.
2014—Moved to Bend Oregon  with his wife Alexa
Gil is the current president of the Plein Air Painters of America.
A SUMMARY OF RELATED EXHIBITIONS
2011—One person show, Knowlton Gallery, Lodi, Ca.
2010—California Art Club Gold Medal Show
2010—Coors National Participant
2009—Coor's National Invitatinal  Winner,  Southwest Art Award of excellence.  (all work sold)
2009—Laguna Plein Air Exhibit.
2008—California Art Club, Gold medal show
2006 and 2007—Coors National
2005 and 2004—National Western Stock Show:  San Antonio, Tx.
2003 to 2006—Traveling museum show, SEA TO SHINING SEA" Participating Artist and co -curator.
2008 and 2006—Plein Air Painters of America Exhibits at the Haggin Museum in Stockton.
The most recent show is touring the nation to a number of Small Museums.
2001—25 Artists Paint Yosemite,  Haggin Museum
1999—Forbes Magazine Gallery exhibit,  15 Artists Paint the Grand Canyon   Curt Walters curat
1997—Forbes Magazine Gallery  25 Artists Paint in Normandy, hosted by Kip Forbes for 10 days at the Forbes Chateau in Ballerioy, France
10 time participant in Laguna Plein Air Exhibit
6 time participant in Carmel Plein Air Event  2003? won artist's choice award