Make A Wish, a group show, opens December 3 from 3-7 pm,
during the Old Mill District's First Friday Gallery Walk.
Start your First Friday Art Walk in the Old Mill District. Meet the artist and
enjoy wine from Evoke and Va Piano wineries.
Make A Wish Group Show is available for viewing and purchase at the gallery
or selected images on our

online store

.
this holiday season

Our sparkly white trees are filled with original fine art ornaments. Come in and browse to find the perfect one for everyone on your list (and for yourself!)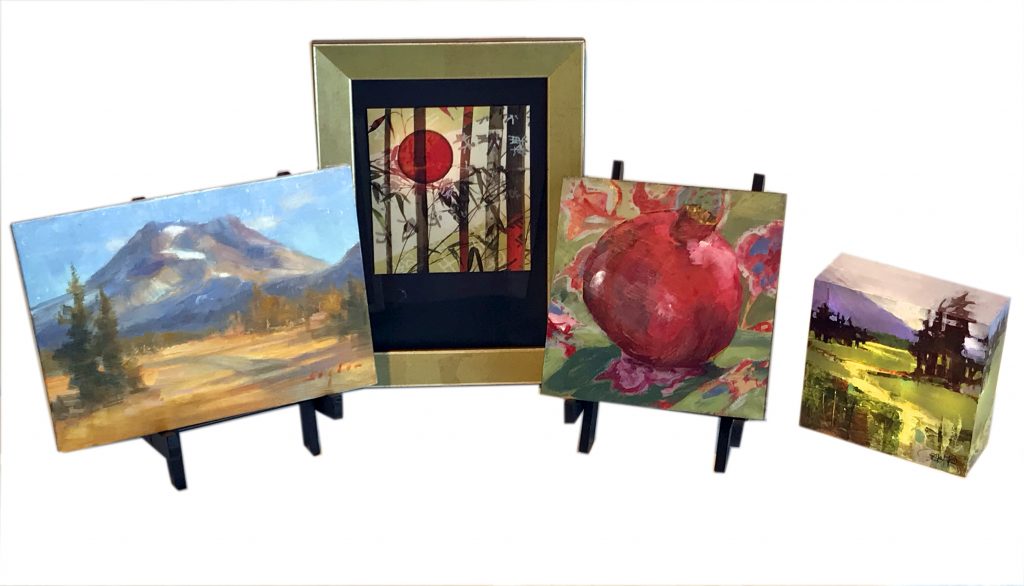 Tiny original art fills the gallery along with a wide selection of ceramics, wood, glass, original prints…something for everyone.
_______
October 2021 Show I Dee McBrien-Lee
July 2021 Show I Helen Brown
June 2021 Show I Sarah B Hansen
May 2021 Show I Shelli Walters
April 2021 Show I Susan Luckey Higdon
Tumalo Art Co., is a fine art gallery in the Old Mill District in Bend, Oregon, owned and operated by artists, is committed to bringing the best of Northwest art to its patrons. Classic to contemporary with a twist, we showcase a variety of fine art in a diverse array of mediums—oil, acrylic, mixed media, digital media, ceramics, glass, sculpture and photography. The gallery also offers limited edition fine art prints and a beautiful selection of jewelry.
We are available anytime by email.

"Stunning, breathtaking, soothing, uplifting, cheerful, peaceful.
So many wonderful emotions in this week's art display.
Thank you!!!"—AW
The words above are from an art lover receiving the Weekly Art Fix. Sign-up today. All of the art shown in our Weekly Art Fix

email is available through our shopping cart.



Check out the shopping cart for convenient online art browsing by clicking the box below!

Click on any of the photos below to go directly to the artists page and see details of their current art.