Contact Nancy by email for more information, to make an appointment to view art,
and to purchase.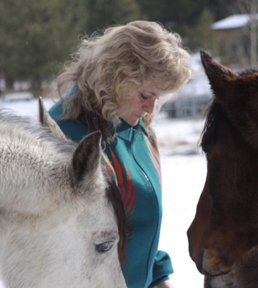 "The same stream of life that runs through the world runs through myveins night and day and dances in rhythmic measure. It is the same life that shoots in joy through the dust of the earth into each blade of grass and breaks into tumultuous waves of flowers." ~Rabindranath Tagore(1861 – 1941)
I am completely enchanted by the beauty surrounding us and by the intricate, delicate fabric of living. Central Oregon is an area rich in wildlife, big skies and natural splendor offering constant inspiration.
Art is a language, a communication everyone knows at a deep level and I love to speak that language. My main art vocabulary exists in glass – a complex and mesmerizing material. Glass is neither a solid or a liquid, changing properties as it changes temperature, it offers unusual challenges. Glass is heat, color, transparency, luminosity, and in motion. It is a challenging material willing to be transformed.
Needing to immerse myself in nature I drink in color and sky while riding my horses. Time stops while listening to the wind, the trees and the birds. It's a personal symphony of perception that I bring to my art forms.
"The creative process is my natural expression. Art is the result."