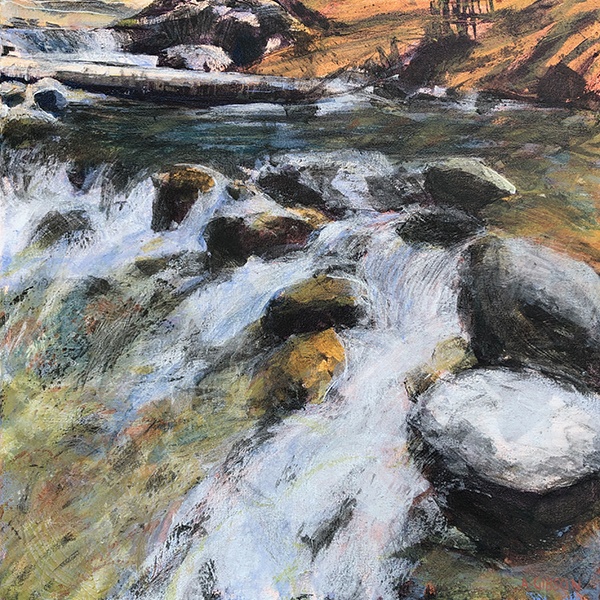 Up the Falling Waters details

Find a quiet trail that follows a creek up a steep or gentle grade, through a rocky canyon or a lush forest. The cascades might be tumultuous and heart-pounding, or gentle and mesmerizing. Always beckoning, these places become a refuge, inviting contemplation and sparking inspiration.
Through color, mark-making, fluidity, and unexpected viewpoints, Anne Gibson conveys the force and tranquility of these mesmerizing flows. She invites you to linger, feel the power of place, and to contemplate its value in our complex world.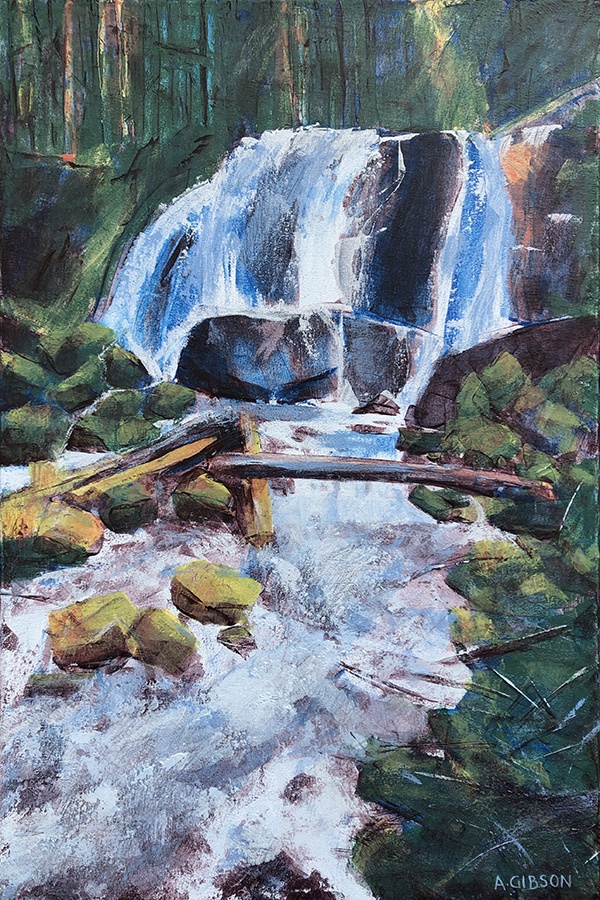 Tranquility details
Central Oregon is a landscape shaped by rocks and water. Over millions of years, the creeks and rivers carved and reshaped the bones of our landscape, laid out over millennia by eruption after eruption of our volcanic neighbors. The push and pull, the earthquakes and storms, the rocks and water, seem the true architects of this land. Then in the blink of a geologic eye, we have changed so much and threaten so much with our progress.
Anne will donate ten percent of all sales during her September show to local environmental groups working to preserve and protect this place for future generations.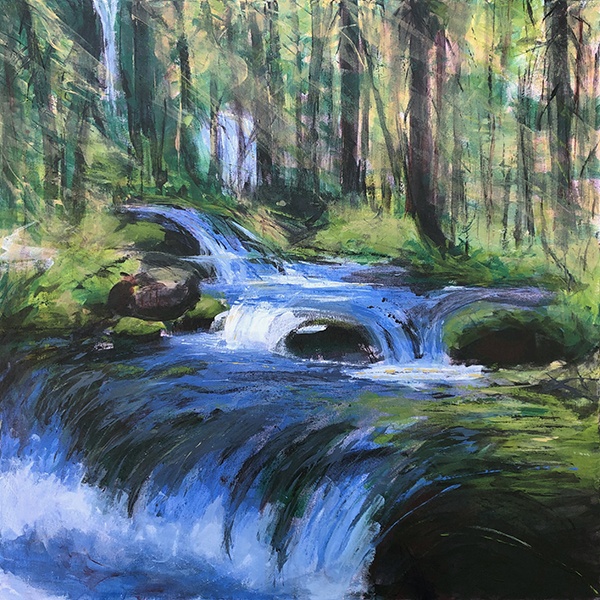 Creekside Triptych #3—North Fork Tumalo Creek details
Inspired by places that she frequents often and knows well, Anne studies her own photos from hikes and paddle trips, planning composition and color palette, sometimes splicing several shots to create a panorama, horizontally or vertically. These panoramas might become a single work, but more often they are conveyed by two or three sequential canvases.
Anne blocks in the darks and lights of her composition with broad gestural strokes, using large spatulas, scraps of matte board, or palette knives. Once she has placed the basic strokes, she tucks away the photos so that she can focus on memories and feelings. As one geologist and collector said, "If I want to remember what it looked like, I'll take a photo, Anne's paintings show what the rocks feel like." Building up the range of colors and textures with layer upon layer of translucent pigments creates her foundation. Tones and values vary depending on the order she lays them down, the number of layers, and whether she adds them over wet or dry surfaces. She forms line and texture by scraping to reveal the colors beneath.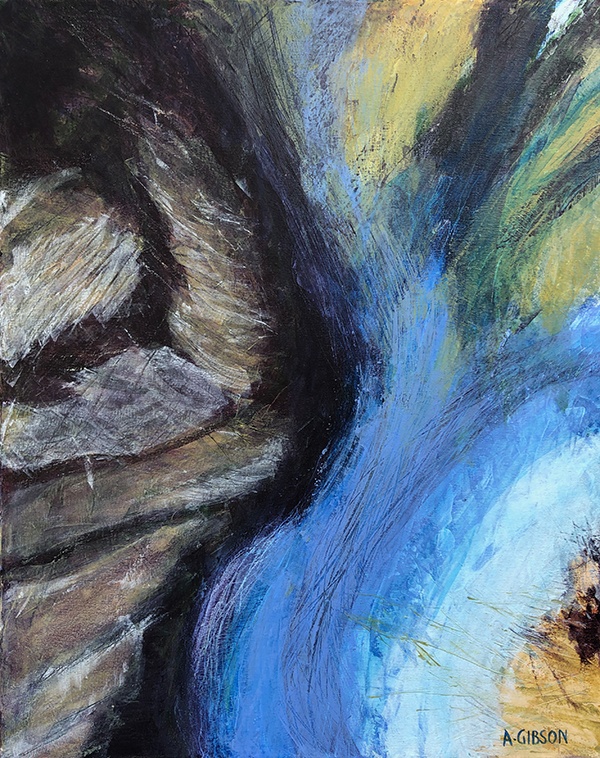 Where the Rocks Flow and the Waters Dance details
Anne Gibson's Up the Falling Waters exhibit was on view in September at Tumalo Art Co. Checkout the art on our shopping cart and purchase online.

Art and art making have always been central to Anne's life, but she realized her dream of being an artist circuitously. Told she must get a well-rounded degree (rather than attend art school), she earned a BA in art history at Tufts University, adding as many studio arts classes to her schedule as she could manage. Anne began her professional career at the Worcester Art Museum in Massachusetts, soon becoming director of publications and marketing. She then became senior designer at Gilbert Design in Providence, RI, producing museum and gallery exhibition catalogs and college view books. During those years, Anne supplemented her design career with classes in drawing, typography, and printmaking at the School of Visual Arts, NY; the School of the Museum of Fine Arts, Boston; and Rhode Island School of Design.
After growing up and working among the cultural riches of New York and New England, Anne moved to Bend in the mid-90s. The hiking trails, rivers, canyons, and lakes became her museum, cathedral, inspiration, and home. While working as a freelance graphic designer in Bend, she raised two children and explored pastel, printmaking, and painting at the Bend Art Center (Atelier 6000) and COCC. Her work has appeared in group and solo shows in Bend, Portland, and on the Oregon coast. In April 2021, she joined Tumalo Art Co. as a member of the collective.
Anne's inspirations are very much about place but her motivation isn't representation of place so much as an attempt to evoke feelings: the heat of the sun, the clarity of the light, or the riot of color. "We are poised between loving this landscape to death with overuse and pillaging its resources without any regard for its intrinsic worth. I hope my work inspires folks to recognize, value, and preserve what we still have. Recently I have been exploring the forces of rocks and water that shape our environment. They'll endure. Hopefully, if as a community we make the right choices, we will too."
Anne Gibson—beyond the art studio
Any design work Anne does now is focused on supporting arts, cultural, environmental, and social service clients. She spends as much time as possible in the studio but also devotes considerable hours to the non-profit she helped found, which supports kids and teens with type one diabetes through t1dbuddycamp.org. Having recently volunteered to rebuild the website for the Hunger Prevention Coalition of Central Oregon, she now also serves on that board. She frequents the rivers, canyons, and lakes of central Oregon with her (old) pup, her hiking poles, her partner, and her kayak.