Contact Sarah by email for more information, to make an appointment to view art,
and to purchase.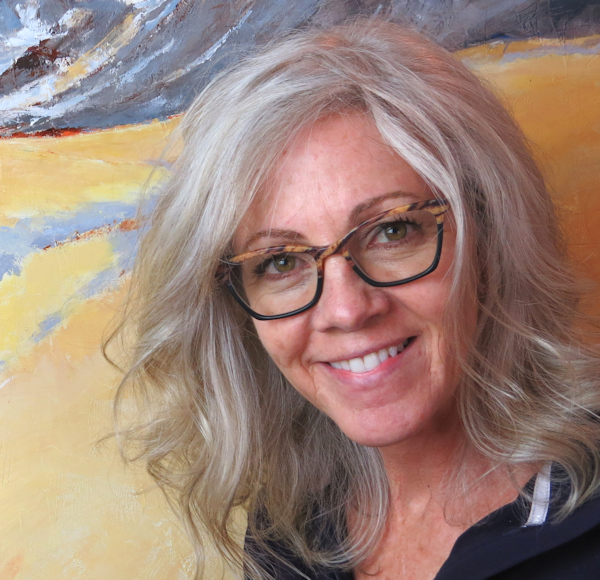 I paint to express my connection to the natural world. Each piece has a story, a tap into the unplugged beauty and peace of nature. As a life-long hiker, backpacker and outdoor explorer, I've experienced incredible beauty in natural landscapes and ecosystems. I draw from these experiences as inspiration for my work.
Applying texture to gesso layers and collaged materials, discover elements of a "story" in each piece. Layers of squares represent elements of the landscape, whether clouds, trees, rocks, and/or plants. Circles are symbols of the many bird songs in nature. Other materials add further narrative to the story.
I find nature is a release and a spiritual connection back to the self. In an effort to describe this connection, I scribble notes from my backpacking art journals, nature writings or poetry; employing script written into the painting, its land, sky, and grooved into the gesso surface.
As I paint, my first layer of watercolor moves and settles into the surface grooves, creating abstract forms, which begin to suggest natural landscape. I enhance these forms, while playing with the abstract qualities of the paint and forms, leaving the viewer to imagine many parts of the landscape, and feel the unplugged freedom and serenity of nature's space.
In this way, I hope to remind our society about the importance of having space to explore our world and connect to the serenity and peace we find when we unplug from our digital and social culture. I hope to use this platform to start that discussion and continue it by preserving our wild spaces.
Wildland Bird Series
Birding has been a passion in my life since 6th grade. In 2019, an idea came to me as I added new birds to my list while traveling in Costa Rica. I wanted to paint those I'd seen. As a result, I took on a personal quest to paint one bird every week that year, using my bird list from 1979. Always seeking new species, my list continues to expand. These are birds from near and far, dependent on my travels. I found the series to be so much fun to paint, that I am continuing it this year (2020), and into the foreseeable future. With each sale, I donate a percentage of my proceeds to the Audubon Society.
I have won awards for my paintings and have collectors ranging up the West Coast from Alaska to California, the Midwest, Colorado, Italy and Paris. I am a member of American Women Artists, National Association of Women Artists, Pacific Rim Institute of Marine Artists, and a signature member of the Northwest Watercolor Society.
When I'm not painting, hiking, or traveling from my Pacific Northwest home and studio, I teach watercolor and painting techniques regionally, nationally and abroad. In 2016, I began Art Adventures, where I provide art retreats to varying locations. During these retreats, I teach daily art lessons as we experience local culture and food, enjoy shopping, hiking, adventure, friendship, art immersion, and the spirituality of the local land.
See more of Sarah B. Hansen's art work , her workshop schedule, art retreats, events, prints for sale, blog, and other information on her website.