April 2021 Show—Water Over Stone
"Eventually, all things merge into one, and a river runs through it. The river was cut by the world's great flood and runs over rocks from the basement of time. On some of the rocks are timeless raindrops. Under the rocks are the words, and some of the words are theirs. I am haunted by waters."
― Norman Maclean, A River Runs Through it and Other Stories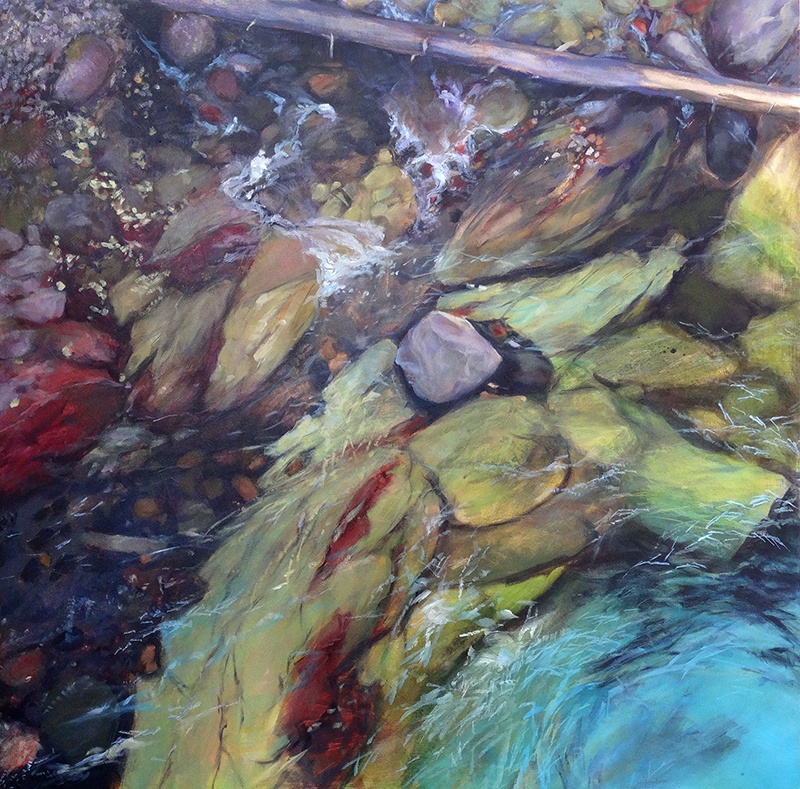 The truth of Iron (Fernview, South Santiam) 36 x 36 details
I seem to never tire of looking into the South Santiam River from the bridge at Fernview. The rocks below this clear water are red, green, blue. A waterfall enters the river, depending on season, frothy or trickling. The deep red of the iron deposits weaving through the rock lends drama. Water running over granite and sandstone make for a glorious celadon. The challenge is to render these details and try to capture the magic I feel.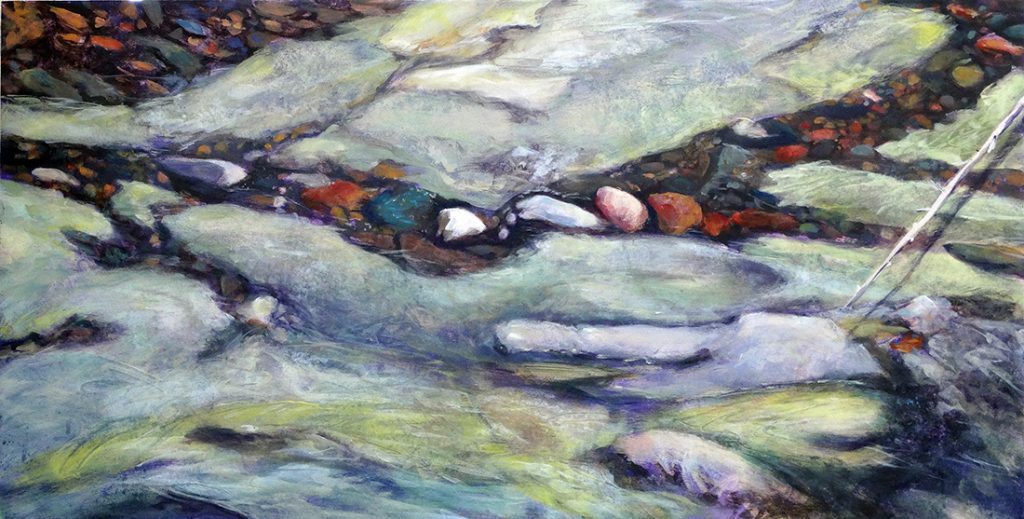 Song of Stones (South Santiam) 24 x 48 details
Just up from the Ferview bridge, following a trail that becomes more and more overgrown, I am transfixed by the water running over and through troughs worn in the stone. And then the different colored stones, like a line of melody, in the fissure between slabs. The water is fairly low in mid-summer leaving them more exposed and glowing.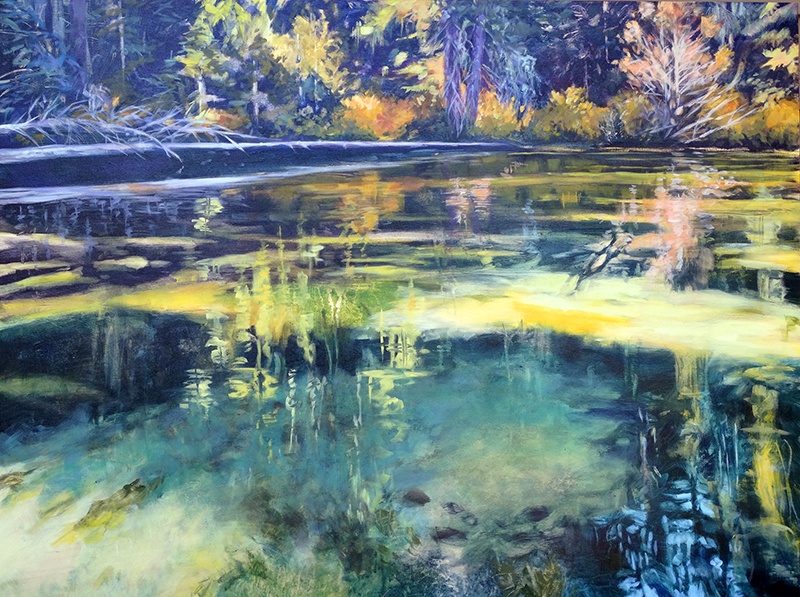 Faerieland (Odell Lake) 36 x 48 details
There is a hush in late October at Trapper's Creek on Odell Lake. I came here as a little girl and have always loved this place. It's shallow for quite a ways out into the lake and then it drops of a ledge becoming very deep. Canoeing with my daughter just short of the ledge and looking back to shore we were met by a magical view of all that was underwater and reflections dancing on top, with stripes of warm light.
Hot & Cool/Umpqua Summer Afternoon (Umpqua River at Horseshoe Bend) 24 x 24 details
The glorious Umpqua River on a hot summer day. Once again, looking down from a bridge at Horseshoe Bend, the shapes of rock formations underwater are mesmerizing to me. Known for it's clear, cold, aqua blue waters and, of course, legendary fishing, we were there just two months before fire destroyed so much.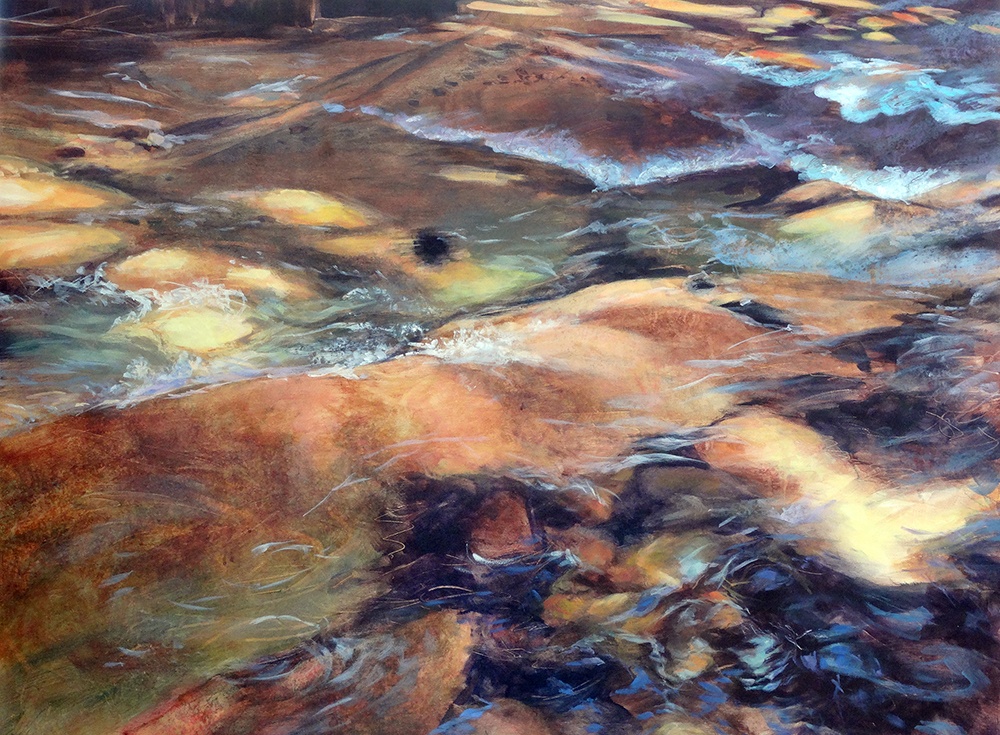 Sandstone & Celadon (Soda Creek) 30 x 40 details
An unpromising road revealed Soda Creek, a stream emptying into the South Santiam River, as a gentle marvel. Flowing water has carved undulating channels into peach toned sandstone slabs with pebbles and stones of all colors scattered throughout. Where the water is a little deeper it is light celadon green, with yellow spots of sun. A quiet, mysterious place.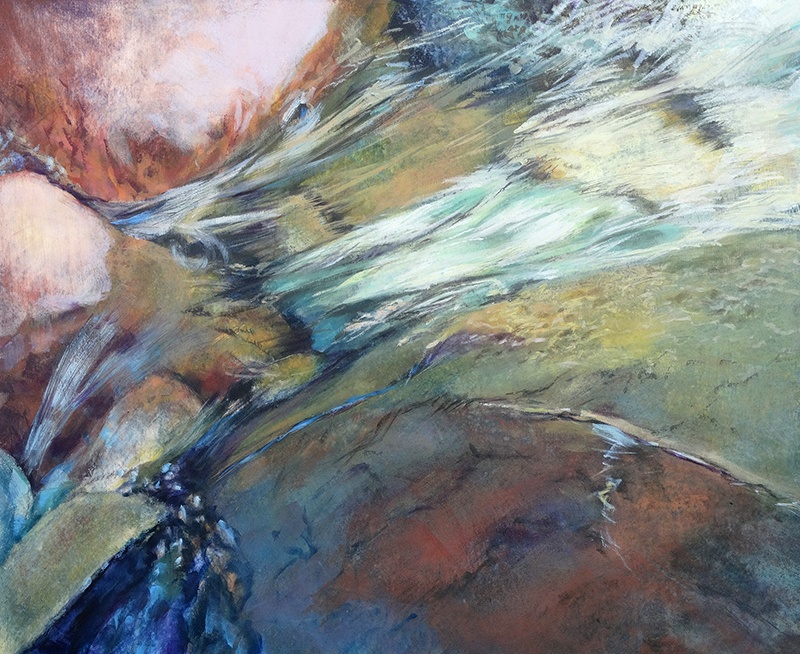 Living Water (Jamison Creek) 20 x 24 details
After scrambling down a rocky path Jamison Creek, tumbles down through gorge below Johnstown California, a tiny old mining town high up in the Sierra's, just a few miles from Graeagle. Clear, cold water rushing over granite stones on a hot day.
See a selection of Susan Luckey Higdon's artwork on the Tumalo Art Co. shopping cart for easy purchasing.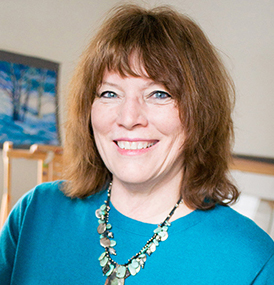 Susan Luckey Higdon is fascinated by swirling layers of water—reflections, what swims below the surface or flies above, and the stones and fallen leaves and needles along the bottom. Well known for capturing the essence of Central Oregon's favorite landscapes, from mountain peaks to wild rivers, Susan's paintings depict the complex interactions of color and pattern in what she describes as natural abstractions.
"My actual rendering style is impressionistic and fairly representational. Using composition to narrow and refine the view, I focus on the semi-abstraction, making the image more about pattern and color. This approach to seeing nature has limitless possibilities." Painting with acrylics on cradled birch board Susan works quickly, adding thick color, then rubbing it off, leaving a tiny bit of the natural board showing when possible. This process goes on until, layer upon layer, the final image emerges.
"As a native Oregonian it is my greatest joy to describe and interpret the beauty of Central Oregon's favorite landscapes. Painting wildlife art—native fish swimming in their habitats or birds glinting in the sun, comes from a desire to show the connection with our environment that is so vital to the essence of our lives and to inspire a greater sense of stewardship for the land."
Over 20 years ago painting became Susan's creative outlet from a demanding career as an art director and mother of two toddlers. "It was clear to me that if I didn't begin my own path of expression soon, I would never begin." When she began she chose soft pastels as her medium because they were quick to get out and put away. This choice based on practicality proved to be a good creative choice as well. The vibrancy, adaptability, and immediacy found in soft pastels fit perfectly her desire to work quickly and intuitively and to throw color around for the joy of it. Strong, sometimes surprising, composition is the cornerstone of her work honed by a lifetime as a graphic designer.
Susan has been featured in Italian fly fishing magazine H2O and Bend Magazine, and has been juried into the High Desert Museum's Art of the West show many times. Susan created the signature art for the Deschutes River Conservancy's main fund raising event, RiverFeast, for 11 years and finds the Deschutes river an endless source of imagery that she is continually drawn to paint. Her paintings have been juried into prestigious shows like the Pastel 100 and by jurors such as Wolf Kahn and are in corporate and personal collections across the country. Reproductions of her underwater world series of paintings of native fish were used by McCormick & Schmick's Restaurants throughout the country beginning with their restaurant in Manhatten. She continues to creates landscapes that are natural abstractions of what meets the eye.
Susan's cards featuring panoramic views of iconic Central Oregon's favorite landscapes are available through her Homeland Images line.
I have a large selection of Limited Edition Fine Art giclee's available on my website. These can be scaled proportionately and printed on canvas or paper giving lots of design options.
See more of Susan Luckey Higdon's art work on her website