See a selection of Susan Luckey Higdon's artwork on the Tumalo Art Co. shopping cart for easy purchasing.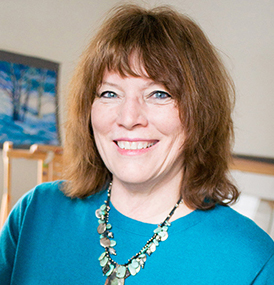 Susan Luckey Higdon is fascinated by swirling layers of water—reflections, what swims below the surface or flies above, and the stones and fallen leaves and needles along the bottom. Well known for capturing the essence of Central Oregon's favorite landscapes, from mountain peaks to wild rivers, Susan's paintings depict the complex interactions of color and pattern in what she describes as natural abstractions.
"My actual rendering style is impressionistic and fairly representational. Using composition to narrow and refine the view, I focus on the semi-abstraction, making the image more about pattern and color. This approach to seeing nature has limitless possibilities." Painting with acrylics on cradled birch board Susan works quickly, adding thick color, then rubbing it off, leaving a tiny bit of the natural board showing when possible. This process goes on until, layer upon layer, the final image emerges.
"As a native Oregonian it is my greatest joy to describe and interpret the beauty of Central Oregon's favorite landscapes. Painting wildlife art—native fish swimming in their habitats or birds glinting in the sun, comes from a desire to show the connection with our environment that is so vital to the essence of our lives and to inspire a greater sense of stewardship for the land."
Over 20 years ago painting became Susan's creative outlet from a demanding career as an art director and mother of two toddlers. "It was clear to me that if I didn't begin my own path of expression soon, I would never begin." When she began she chose soft pastels as her medium because they were quick to get out and put away. This choice based on practicality proved to be a good creative choice as well. The vibrancy, adaptability, and immediacy found in soft pastels fit perfectly her desire to work quickly and intuitively and to throw color around for the joy of it. Strong, sometimes surprising, composition is the cornerstone of her work honed by a lifetime as a graphic designer.
Susan has been featured in Italian fly fishing magazine H2O and Bend Magazine, and has been juried into the High Desert Museum's Art of the West show many times. Susan created the signature art for the Deschutes River Conservancy's main fund raising event, RiverFeast, for 11 years and finds the Deschutes river an endless source of imagery that she is continually drawn to paint. Her paintings have been juried into prestigious shows like the Pastel 100 and by jurors such as Wolf Kahn and are in corporate and personal collections across the country. Reproductions of her underwater world series of paintings of native fish were used by McCormick & Schmick's Restaurants throughout the country beginning with their restaurant in Manhatten. She continues to creates landscapes that are natural abstractions of what meets the eye.
Susan's cards featuring panoramic views of iconic Central Oregon's favorite landscapes are available through her Homeland Images line.
I have a large selection of Limited Edition Fine Art giclee's available on my website. These can be scaled proportionately and printed on canvas or paper giving lots of design options.
See more of Susan Luckey Higdon's art work on her website