Contact David by email for more information, to make an appointment to view art,
and to purchase.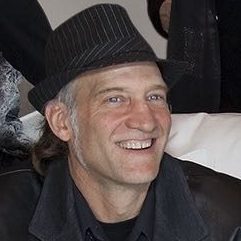 David Kinker is a painter, muralist and teacher. He brings to Tumalo Art Co. a long history in the arts community in Central Oregon. His murals can be seen at Tower Theatre, St. Charles Health Center and more. Besides doing art he is an avid outdoorsman, guiding on a number of north west rivers, kayaking and hiking. He has been perfecting the art of building his own frames using choice hard woods, resourced whereever possible. Recently he was able to repurpose wood from a 100 year-old loom.
With a Bachelor of Arts in visual communication with an emphasis in Illustration, David also studies art history, architecture, world myth and the sciences. His academic background blends with his diverse world experiences such as ranching in the Wyoming Rockies, to living in the colorful influences of the southwest. In addition, his four years as a naval air crewman traveling the world gives him an awareness and consideration of a larger picture that truly enhances the success of his artistic style.
Winning a national award for his art at an early age, David continues to demonstrate his diverse talents. He regularly shows in regional galleries and businesses. His true passion is working as a freelance artist on commissioned murals and illustrations.
David finds great enjoyment in engaging clients through the design process putting their needs, ideas, thoughts and his visual painting expertise together into the creation of visual solutions. He supports his community by creating murals in nursing homes, childcare centers and social services buildings. He also works with numerous non-profit organizations producing decorative signage and illustration, and donates fine art to environmental and social concerns.
Check out David's website