Contact Adell by email for more information, to make an appointment to view art,
and to purchase.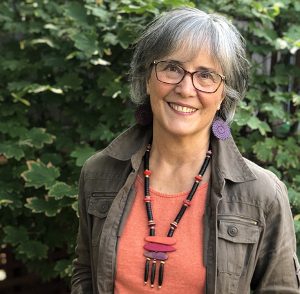 Adell Shetterly has an exploratory spirit and draws on encounters with nature, memories and moments of everyday life seeking to integrate abstraction, color and texture to create inventive and expressive artworks.
Graduating from Western Oregon University Shetterly studied elementary education, working in education for several years before retiring to explore new opportunities at the City of Troutdale where she was hired to expand a summer recreation program to a full year program. Using the tools of her education to establish a curriculum of community classes for all ages from sports, dance and art, the program grew under her management. Moving to Bend in late 2001, Shetterly soon found a position with Arts Central to build the community arts program for the Art Station. Recruited a few years later, she worked for Atelier 6000 developing their curriculum program of printmaking, book arts and drawing. Inspired by the artists and the students of the two organizations Shetterly began to enroll in workshops, particularly printmaking, studying with Master Printmaker, Pat Clark. Upon retirement in 2013, Shetterly continues to pursue her love of printmaking, working and studying from her home studio in Bend, Oregon.
Artist Statement: To me, printmaking is an unrestricted creative medium, the design possibilities, techniques and variations on how the combinations of print techniques talk to each other are wide open to interpretation and innovation. When truly engaged in art making time stands still. Lost in creativity and exploration the artistic vision evolves…moving forward or backward…and perhaps it begins anew with a spark of innovation. Motivated to be present in this state of discovery I appreciate and welcome the journey of creative study.
To see more of Adell Shetterly's artwork visit her website