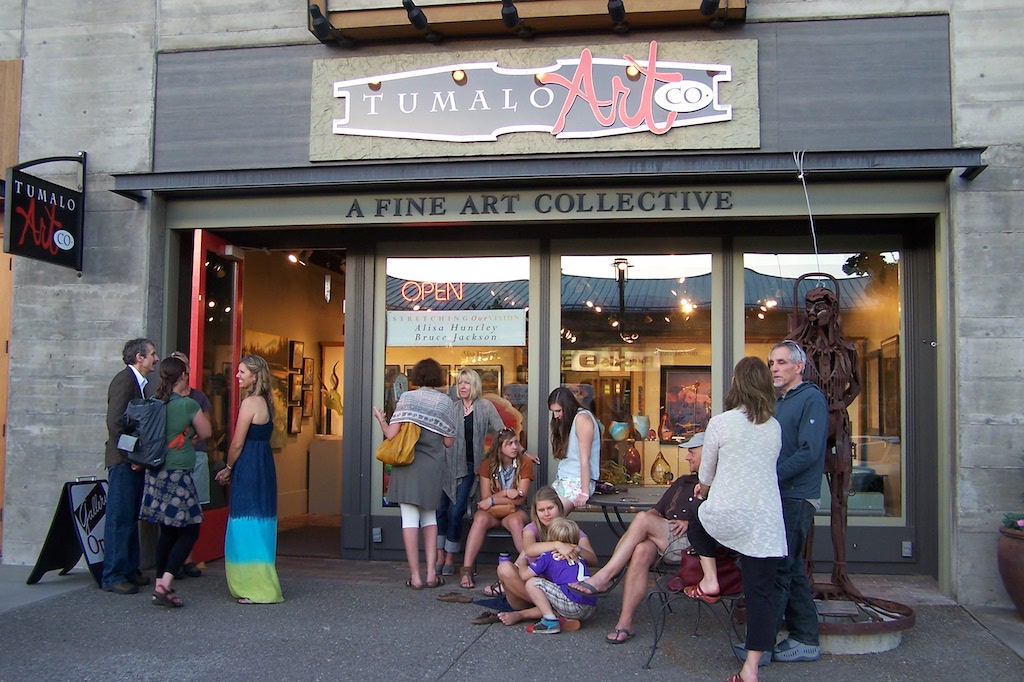 When you visit Tumalo Art Co, a fine art gallery located in Bend, Oregon's Old Mill District , you will be greeted by one of the 14 member artists. This fine art collective is owned and operated by local artists who are committed to bringing the best of Northwest art to its patrons.
Not only will you find some of the best oil, acrylic and mixed media art work in Central Oregon, but ceramics, glass, sculpture, photography, digital media, original hand-pulled prints, hand-turned wood and hand-made jewelry from four local makers. There is also a selection of limited edition fine art giclee reproductions as well as note cards made by many artists using their images.
Tumalo Art Co, a fine art collective in Bend, Oregon, owned and operated by artists, is committed to bringing the best of Northwest art to its patrons.
Making art can create a solitary lifestyle. And, as artists we each face tremendous competition for gallery space. The concept of a group of artists sharing gallery space allows us to succeed at the formidable task of running it. The tremendous amount of work it takes to run a gallery is offset by having creative control of the space, and the benefit of working as a team. As a group, we affirm and challenge one another and form lasting relationships with our art clients.
We want the gallery experience to help each artist be successful so we can continue creating art and, believing that art has enlightening and even healing properties, and a meaningful art experience to our community.


HISTORY
Now in our 20th year, Tumalo Art Co. was started in 2002 by Marta Batha and was housed in Tumalo Junction, a commercial building in Tumalo owned by Marta and her husband Vince. She drew the artists, who ran the gallery collectively, from Art Partners, an art mentoring group she was part of. In the beginning seven artists worked at the gallery, and were each responsible for a job that supported its growth. Marketing, public relations, art opening events, bookkeeping … all of these were handled by the gallery artists. Marta also began a furniture and accessory business that added a unique blend of original fine art arranged in home-like vignettes.
The artists involved became a cohesive group and enjoyed the process of getting to know customers who came into the gallery, discovering that customers enjoyed meeting and talking with artists who could speak knowledgeably about their art in the gallery. And, the artists found they enjoyed discussing and selling each others work.


When Tumalo Junction was sold in the fall of 2004, the decision was made to move the gallery into Bend and the search was begun to find a location.
Susan Luckey Higdon and Tracy Leagjeld became the new principals, forming the nucleus of the restructured gallery and along with the collective members remodeled an industrial space at 136 NW Greenwood Ave, two blocks from Wall Street in Downtown Bend.
In 2008, as the great recession began, a decision was made to move the gallery to the Old Mill District in Bend where it could benefit from pedestrian traffic. The gallery opened in its new location at 450 SW Powerhouse #407, in the heart of the Old Mill District, on June 1, 2009. Tracy Leagjeld stepped down as a partner at the end of 2010 but continues as an active collective member.
STRUCTURE
After exploring several models for the collective structure, Luckey Higdon and Leagjeld settled on 12-15 member artists as well as a limited number of represented artists in a traditional gallery relationship. Member artists pay a monthly space rental fee and work in return for lowered commissions. This enables the gallery to cover its operating costs, keeping the doors open as it continues to build its reputation as a high-quality, artist-run gallery.
When the Covid Pandemic began in March of 2020 the collective members entered a time of uncertainty along with the rest of the world. The Old Mill District closed for two months. Not knowing what the future held the members started repainting the gallery and began an online shopping cart, emailing the Weekly Art Fix to its list once a week from then on. Many recipients emailed back thanking the group for the gift of beauty during that dark time. When we reopened, because of our model, we had the ability to be open full hours, wearing masks and taking precautions, serving art lovers as they gradually came back outside.
Current Collective member are: Nancy Becker, Helen Brown, Danica Curtright, Dorothy Freudenberg, Sarah B Hansen, Susan Luckey Higdon, Anne Gibson, Alisa Huntley, Bruce Jackson, David Kinker, Dee McBrien-Lee, Danae Bennett-Miller, Adell Shetterly, Katherine Taylor and Shelli Walters.
Represented Artists are: Marlene Moore Alexander, Amber Bremmer, David Carlson, Judy Clinton , Nancy Dasen, Janice Druian, Annie Ferder, Linda Heisserman, Judy Hoiness, Pat Horsely, Pamela Kroll, Jessica Layton, Tracy Leagjeld, Mary Marquiss, Marty Stewart, Tom Willing, and Alison Wahl.
This varied group of artists are all well-known professionals, with deep roots in Central Oregon. The art ranges from abstract to realism, in all medias, including photography and fine art digital images. The result is an interesting collection of art that "hangs together" beautifully.
LOCATION
The gallery moved it's location in June 2009 to 450 SW Powerhouse Dr. #407 in Bend Oregon's Old Mill District. The artists are thrilled to be part of the vibrant culture of the Old Mill and look forward to you stopping by soon!