Susan Luckey Higdon is the featured artist during May at Tumalo Art Co. She is using this opportunity to exhibit for the first time the signature art for Deschutes River Conservancy's 2018 RiverFeast event, "Magic on the Upper Deschutes", along with other new works of the Deschutes River. The original acrylic painting is 60" x 30", and she will be donating 25% of the proceeds from its sale to the Deschutes River Conservancy.
Susan has been creating the signature art for RiverFeast for 11 years and finds the Deschutes river an endless source of imagery that she is drawn to paint. She is well-known for her landscapes of iconic Central Oregon scenes, particularly water, and is drawn to unusual and dramatic composition, pattern and color. The scene that inspired Magic on the Upper Deschutes is an area where the upper Deschutes River plays hide and seek along Century Drive in the high Cascade Mountains, as it begins its long journey to the Columbia River.Susan has painted the headwaters of the Deschutes River where it flows out of Little Lava Lake extensively, including the Kokanee that spawn downstream.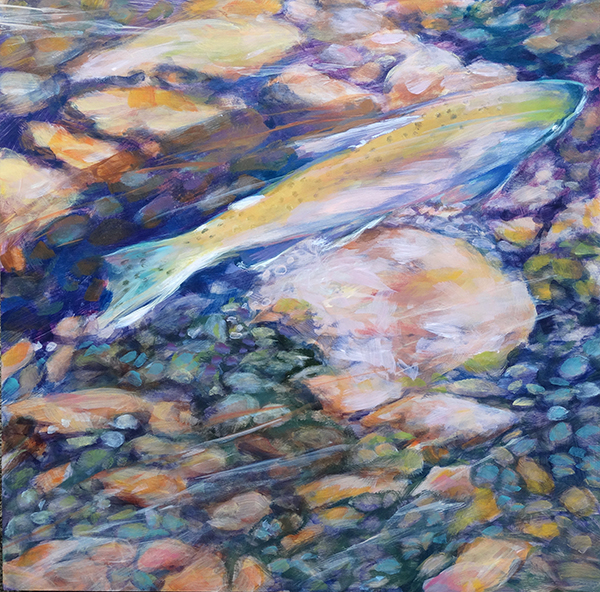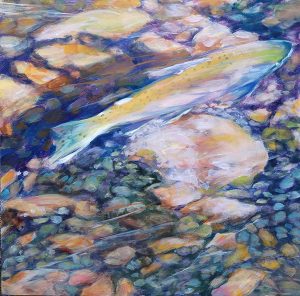 Painting with acrylics on cradled birch board Susan works quickly, adding thick color, then rubbing it off, leaving a tiny bit of the natural board showing when possible. This process goes on until, layer upon layer, the final image emerges. ❚ Susan began painting over 25 years ago while working full-time as a graphic designer in an advertising agency and raising two young children. Her motivation was to do something creative that was completely for herself, working intuitively and moving color around for the sheer joy of it.
She was featured in Italian fly fishing magazine H2O and Bend Magazine, and has been juried into the High Desert Museum's Art of the West show for several years in a row. She regularly contributes to the Sisters Folk Festival My Own Two Hands event.
Susan's cards featuring panoramic views of iconic Central Oregon scenes are available in Central Oregon through her Homeland Images line. Her paintings have been juried into prestigious shows like the Pastel 100 and by jurors such as Wolf Kahn and are in corporate and personal collections across the country.
Tumalo Art Co. is an artist-run gallery in the heart of the Old Mill District in Bend, Oregon open seven days a week.