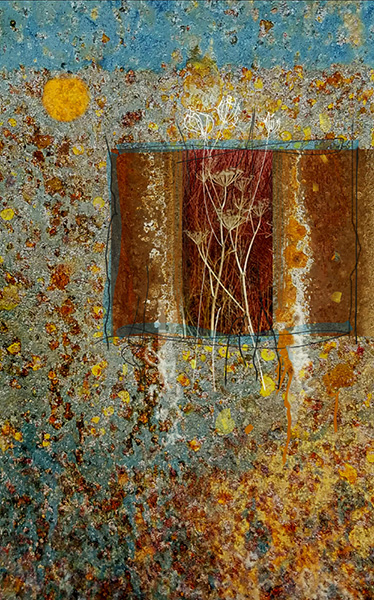 For her June show at Tumalo Art Co., "Folding Visions: Past/Present/Future", Dorothy Freudenberg has curated old and new pieces presented with a clean modernist feel. The show opens June 1, from 4-8pm.
Throughout her art career, Dorothy has experimented with various kinds of media to print her stunning digitally composed images.In this current show, Freudenberg has looked into the past and is representing some of her images in a new medium, that of metal prints. While metal prints have been embraced by photographers, it is more difficult to find artists embracing this new medium. Metal prints have intense color as light reflects back to the viewer, giving a great saturation and dimensionality to the piece. Combined with long archival life and the ability to dispense with glass, these pieces seem to glow from within. While this procedure might not be suitable for all subject areas, it really gives dramatic effect to others.
At the same time she is presenting some very new pieces—in a category called, appropriately, Phoneography. For those of us who use our phones as a source of inspiration, you know the images are different than those with a larger format camera. Because of this, it is possible to do things in a very fluid, spontaneous manner, producing exiting new ideas and images in a smaller format. Many artists are making use of this tool and bringing new concepts to the blended medium of photography and digial painting.
Dorothy's poetic images, all digital and made either through the computer or cellphone, are very painterly and do not bring to mind technology but rather the beauty of nature and music. Which is not surprising as she is an accomplished pianist and teaches piano to many budding musicians. She also works in portraiture creating sensitive, natural light images that show capture her subjects personality.
Tumalo Art Co. is an artist-run gallery in the heart of the Old Mill District, open every day. 541-385-9144;www.tumalartco.com.