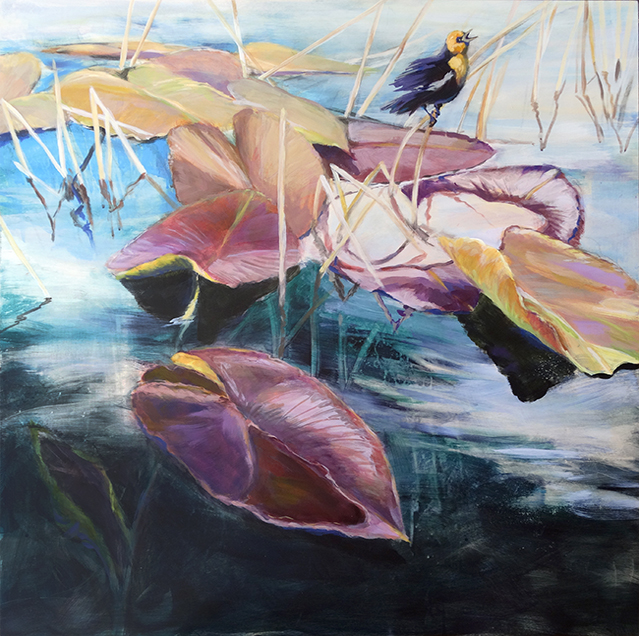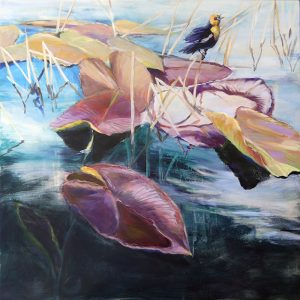 Susan Luckey Higdon is fascinated by swirling layers of water—reflections, what swims below the surface or flies above, and the stones and fallen leaves and needles along the bottom. She explores this theme in her new landscapes. Her October show of new works at Tumalo Art Co. in Bend, Oregon, opens October 7, from 4-8pm during the First Friday Gallery walk.
Well known for capturing the essence of Central Oregon's dramatic landscapes, from mountain peaks to wild rivers, Susan's new paintings depict the complex interactions of color and pattern in what she describes as natural abstractions. "My actual rendering style is impressionistic and fairly representational. Using composition to narrow and refine the view, I focus on the semi-abstraction, making the image more about pattern and color. This approach to seeing nature has limitless possibilities."
Painting with acrylics on cradled birch board Susan works quickly painting her landscapes, adding thick color, then rubbing it off, leaving a tiny bit of the natural board showing when possible. This process goes on until, layer upon layer, the final image emerges.
Susan was recently featured in Italian fly fishing magazine H2O and the spring 2016 issue of Bend Magazine. She is the signature artist for the Deschutes River Conservancy's annual RiverFeast event and contributes regularly to the My Own Two Hands juried fundraiser for the Sisters Folk Festival. Check out Susan's recent artwork.
Tumalo Art Co. is an artist-run gallery in the heart of the Old Mill District in Bend, Oregon, featuring over 25 of the area's finest artists. 541-385-9144 or tumaloartco.com.