[nggallery id=leagjeld-huntley2011]
"Naturally Inspired", featuring new works by Alisa Huntley and Tracy Leagjeld, opens during the First Friday Gallery Walk, October 7, from 5-9pm at Tumalo Art Co. Both artists bring a strong vision and work with unique combinations of media.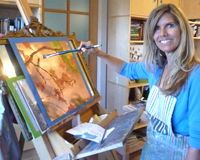 Alisa Huntley has focused her attention on tree forms and the natural world. "Living in a fast paced, technological society, the simple beauty of nature can revitalize our chaotic, disconnected lives. I want my paintings to offer a moments pause and remind the viewer of the sacredness of our natural world  and our need to commune with it." Alisa works in oils on aluminum, copper and canvas.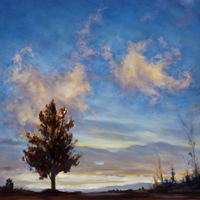 Tracy Leagjeld's inspiration for this show was the changing light of the Oregon Cascades. Whether fog or rain, crisp blue bird days, or the fading light at days end, she aims to depict the mood of the scene. "I wanted to capture the essence of 'place' with minimal detail.  And, I was intentionally loose and expressive, allowing for the imperfections and 'happy accidents' that are one of the trademarks of the monotype process.