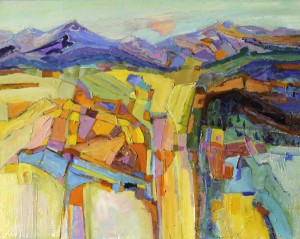 Tumalo Art Co.'s September show combines work by two extraordinary colorists—monotypes by Tracy Leagjeld, and acrylics by Carla Spence. The exhibit will open Friday, September 7, from 5-9pm during the First Friday Gallery Walk.
Tracy Leagjeld presents her signature Central Oregon landscapes along with recent work depicting urban Portland scenes, including bridges. Though different for Leagjeld, this body of work showcases her confident use of color, shape and line to build emotionally descriptive images with a strong sense of place.
Carla Spence abstracts the landscape with blocks of strong, rich color. Influenced by Bauhaus and Mondrian, and her own distinctive vision, she uses the landscape as a take-off point to create a vivid visual experience. Spence has traveled extensively and brings those influences to her work.
Tumalo Art Co., an artist-run collective in the heart of the Old Mill District, is open 7 days a week. www.tumaloartco.com; 541-385-9144 for more information.