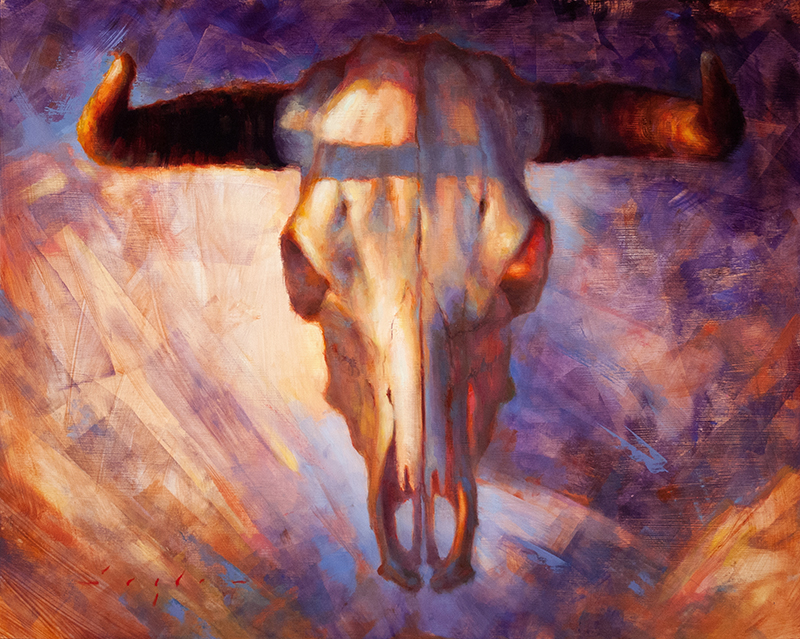 Katherine Taylor's exhibit of new oil paintings, "A Celebration of Paint," opens at Tumalo Art Co on August 3, from 4-8pm during Frist Friday Gallery Walk in Bend's Old Mill District.
Katherine is a long-time Central Oregon artist who outfits an array of canvases with lively textured marks made from lots of oil paint lusciousness. Her signature artwork employs the dramatic lighting and luminous glazing she learned from her classical art training in the early years.
From this classical painting foundation, Katherine has chosen to mix it up when it comes to genres and styles. She paints every subject that comes to mind with a variety of techniques and applications she's picked up along the way—even if it flies in the face of typical representational artwork. After 30 years of smearing oil pigments on canvases, she reflects that it's still "all about the paint."
Katherine takes her cue from the master painter, Richard Schmid, who once said, "Paint should resemble reality but clearly not be reality itself. It's not meant to fool the eye; it's meant to delight the eye. Always retain the beauty of the paint."  In other words, let paint be paint.
There is no subject matter beyond Katherine's scope of interest, whether it be the figure, the face, the landscape, an urban setting, fabric, flowers, metal, even bleached bones. It's all game for Katherine, just so she can experience the fun and challenge of creating a beautiful surface that delights the eye and feeds the soul.
Katherine's award-winning art has been included in juried exhibitions and private collections in several regions. She exhibits nationally, with current gallery representation as a member artist at Tumalo Art Co. in Bend, Oregon; Sisters, Oregon; Whitefish, Montana; and Santa Fe, New Mexico. Katherine also teaches and lectures on oil painting.
Tumalo Art Co. is open everyday in the heart of the Old Mill District in Bend, Oregon. It is easy to find—look for the heroic-sized stallion sculpture out front on SW Powerhouse Dr. Call 541-385-9144 for more information.