The Poetry of Painting, featuring Marty Stewart's atmospheric soft pastel paintings, opens October 2 from 4-8pm, at Tumalo Art Co. in Bend, Oregon.
Marty has been influenced by strong visual images in poetry allowing her to imagine a painting that reflects the beauty of the words. At other times, the idea for a painting led her to discover poetic words that echo her visual art.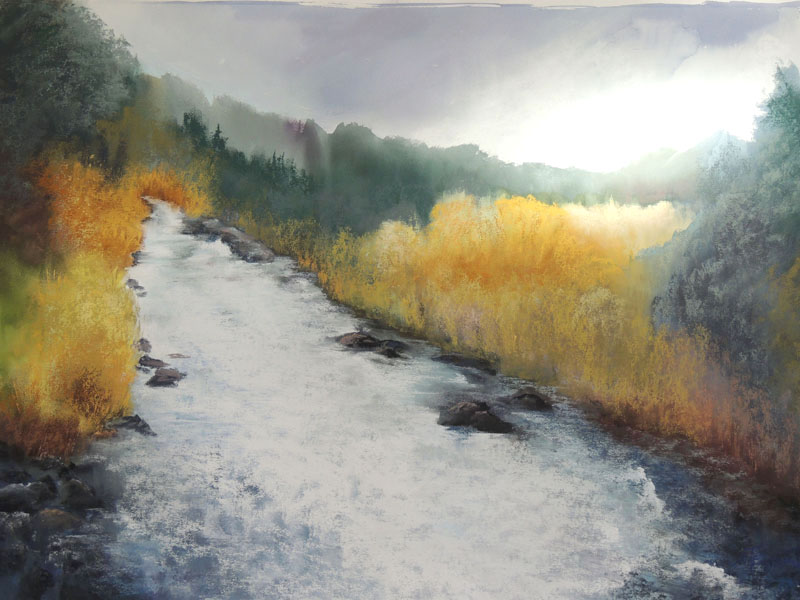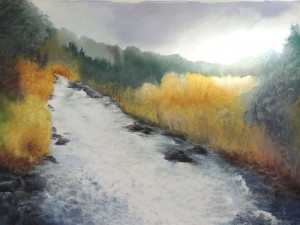 Love Is a Mountain Stream is a beautiful example of combining art with poetry. Marty searched for poetry lines that could evoke a visual image, then created a painting.  She says "I think the idea that love is like a mountain stream is so true: they both are powerful, beautiful, and full of rocks and debris along the way!"  And she finds painting flowing water to be a joy with pastels; they are well suited to depict movement and mist, as well as the surrounding rocks and foliage.
Marty's award-winning pastel landscapes begin with an under painting of watercolor on sanded paper. Then rich colors of soft pastels are applied in thin layers to create texture, atmosphere and depth. Her love of color, drama, and the unknown invite the viewer to wander through mountains, along rivers or beside cliffs to discover a new world of wonder and mystery.
Among her honors, Marty received First Place in the Pastel Journal, Pastel 100 competition and was a finalist in Artist's Magazine 28th Annual Competition, both in the abstract category in 2011. Her painting was chosen for the 2014 Sunriver Music Festival Poster.
Tumalo Art Co. is an artist-run gallery in the heart of the Old Mill District in Bend, Oregon. The gallery is open seven days a week. 541-385-9144; www.tumaloartco.com