Tumalo Art Co.'s March exhibit "Landscapes from the Mountains to the Sea", opening March 2 from 4-8pm, during the Bend, Oregon First Friday Gallery Walk, features new watercolor batik paintings by Helen Brown.
This collection of watercolors by Helen Brown represents the coming together of two series that the artist is currently exploring.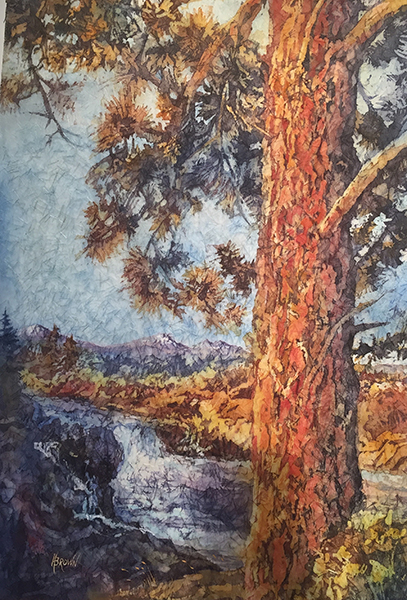 The first is Northwest landscapes inspired by her interest in the Lewis and Clark Expedition. From the Rocky Mountains to the Pacific Ocean, Helen renders the high country with open meadows and streams, leading to the seashore and the mouth of the Columbia. Her Lewis & Clark work was featured in a four-month exhibit at the Oregon Historical Society in Portland, where several of her paintings were purchased by the OHS for their permanent collection and another was sent to reside in the Oregon Governor's mansion in Salem.
The second series is animals, both wild and domestic. Helen recently taught a watercolor class in which the students experimented with painting fur, feathers and expressive eyes.
Throughout the body of her work in this exhibit, one common denominator is the paper and technique that Helen chooses to use. She works on Japanese rice paper with a batik method using molten wax to control the paint. The absorbent paper allows the watercolor to flow and spread, whereas the wax serves as the proverbial brick wall where the paint will stop and form a hard edge. Helen's technique is further explained in the black binder located in her plexi bin. She is often asked if she invented this method of painting. She will tell you that she read about it in a magazine five years ago, from an article written by Artist Kathie George.
In addition to being a member of the Tumalo Art Company, Helen takes part in the High Desert Art League and the Watercolor Society of Oregon (WSO). One of Helen's paintings was chosen to be in the statewide exhibit in Florence next month.
Tumalo Art Co. in the heart of the Old Mill District is an artist-run gallery open 7 days a week. 541-385-9144; www.tumaloartco.com.