July Mountain Spirit!
Artists Mary Marquiss and Marty Stewart open their show "Mountain Spirit" on Friday, July 1, at Tumalo Art Co. located in the Old Mill. "Each painting is an adventure–a step toward answering the question: where can both the artist and the viewer go with this painting?" say Marquiss and Stewart, "Where will the spirit of the mountain take us?"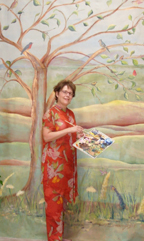 Mary Marquiss
"With mountain images as my focus I explored a wide range of media to evoke the diverse spirit of the western landscape. In addition to classic watercolor, I used  monotype with gesso, watercolor with pen and ink, and watercolor with collage and gouache. As a fifth generation Oregonian, I feel fortunate to explore the rich beauty of Oregon in my work and to call the west my home."
Marquiss is an artist, art teacher and author living in Bend. She teaches children and adults throughout Oregon with an emphasis on individual style and is a graduate of the University of Oregon.
For information on Mary's Summer teaching schedule including a Workshop in beautiful Cannon Beach click here
"In preparation for this show, my aim has been to depict, through mountain landscapes, something of the eternal energy of the earth—something felt as well as seen. The ever-changing atmosphere and light that illumines these ageless forms."
Stewart is a soft pastel artist who recently won a First Place award in the prestigious Pastel 100. She paints mostly landscapes en plein air and in her studio, layering watercolor under soft pastels for depth and drama.  For this show, she painted larger and bolder, striving to bring a sense of something beyond the ordinary to the viewer. She holds a BFA from the Art Institute of Chicago.