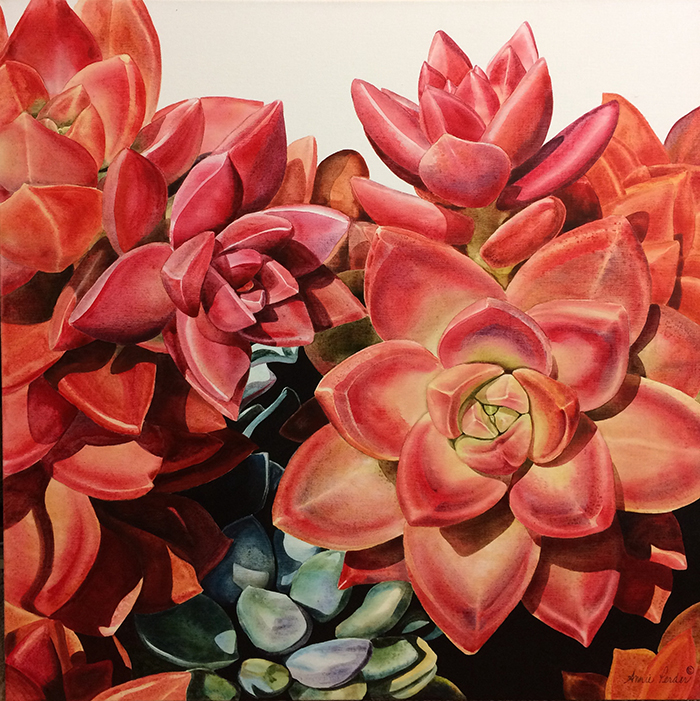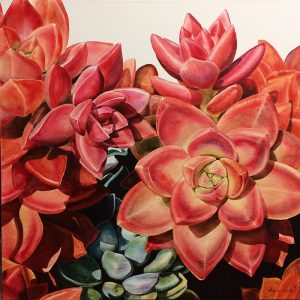 Annie Ferder's June show of new paintings at Tumalo Art Co. —Micro Modern Botanicals, opens during the First Friday Gallery Walk, June 2, from 4-8pm. Painting in her award-winning luminous, photo realistic style, Annie's new botanicals are thoroughly modern, becoming even more dramatic in large format.
Big paintings of botanicals were the hallmark of Annie's work two decades ago, and now she is working with the acrylic medium, painting on gallery wrap canvases, allowing backgrounds to stay pearly white. Two of Annie's new pieces are acrylic on watercolor canvas, and framed. Exquisitely designed lines and shapes featuring extraordinary attention to detail allow the subject to take center stage, feeling fresh and immediate.
All but one of the paintings have white backgrounds. Drake Park Peonies has a black background, adding to the drama of the three Peonies, named so because the flowers were found in a garden across from Drake park. "Each year, I keep my eye out for places rich with flowers and fauna, taking notes and making dates in my calendar to revisit them in the future," says Annie.
Annie's life is centered around creating and sharing her art. Traveling from Hawaii to Florida to sketch and take reference photographs of the fauna and flora found across our landscape, Annie enters her Bend, Oregon studio first to make detailed drawings of her subject, then to bring the mind's eye interpretation out of her pallet of colors. Exquisite control over the watercolor medium allows her to create her images, layering up to 20 applications of paint while keeping her colors fresh, vibrant and rich. Annie's passion for painting botanical subjects remains as strong as ever. "When I paint," she says, "I recreate the sense of peace and harmony I felt as a child in my grandfather's garden."
Annie has been regularly featured in local and regional arts publications and her work has twice been published in International Artist magazines in recognition of awards received in that magazines prestigious competitions.
Tumalo Art Co. is an artist-run gallery in the heart of the Old Mill District in Bend, Oregon. Please call 541-385-9144 for more information or check out our website.