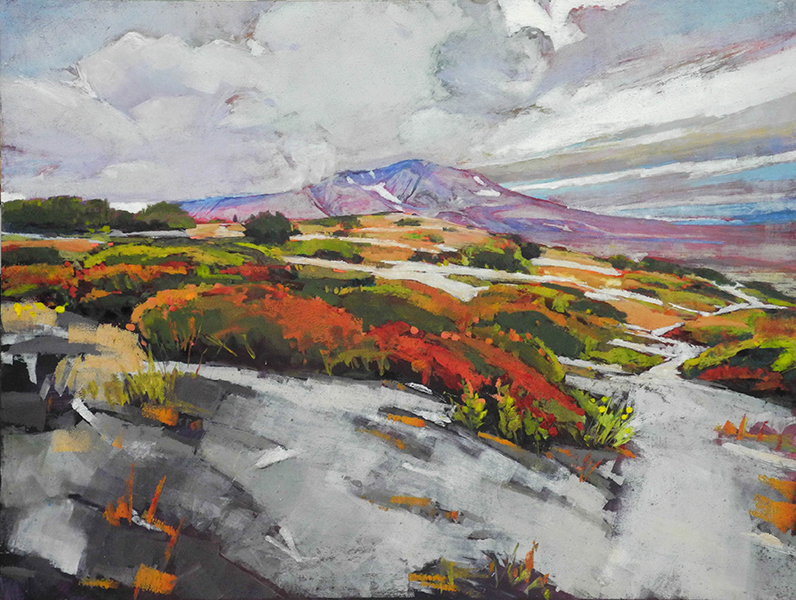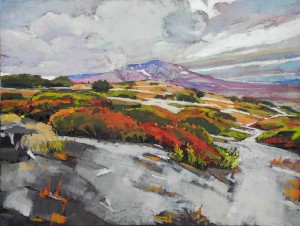 Mother daughter artists, Carlie Leagjeld and Tracy Leagjeld, present their views of the world in different mediums and sensibilities, opening October 4, from 5-9pm during the First Friday Gallery Walk.
A lifetime Bend resident recently relocated to Portland, Tracy Leagjeld is a printmaker working in monotype. Using rollers and oil-based inks she creates layered, subtley textured landscapes as well as architectural forms and seascapes with surfers. "I am not as much concerned with capturing correct shape and color, as striving to create images that allow the viewer to put themselves into the painting and feel the spirit of the place", says Tracy.
Carlie Leagjeld, who grew up in Bend, developed the idea of brushing paint on glass then peeling off the paint and transferring the pieces to waxed paper in graduate school at American University in Washington DC. Arrangeing the paint pieces on board or paper, layers some for a three-dimensional effect and places others into patterns that suggest leaves, vines, or other organic materials. Some arrangements seem to be variegated planets or moons.
Tumalo Art Co. is an artist-run gallery in the heart of the Old Mill District, open 7 days a week. 541-385-9144; tumaloartco.com