Printmaker Adell Shetterly's exhibit of hand-pulled prints, Impressions, opens November 6, from 4-7pm. The show highlights a variety of print processes from monotype, monoprint, collagraph and combinations of print forms and media. From memories and moments in time, Adell's images integrate abstraction, with color and texture inspired by natural environs.
Much like the first impressions we make on others upon a first meeting, the first impressions made from a plate as it contacts a sheet of paper pulled through a press deeply influence the direction of the printmaker. Each print technique creates unique effects that cannot be created by any other means.
"Many of my works are inspired by encounters with nature and recorded with photography to be brought forth at a later date to explore the question, 'What if'? What if I focus on just this piece in the photo? What if I quiet my mind and remember the sense of place or feeling from this photo?", explains Adell. "I am fascinated by printmaking as an art form; there are so many permutations. Design possibilities, techniques and variations in each technique provide hours of creative exploration. Every new work reinforces what I do know and it also instigates excitement for what comes next. Printmaking is innovative, creative and wide open to interpretation. It has its own lexicon and l hope, lasting impressions."
In the beginning, before the printing press, printmaking was not considered an art form, rather a medium of communication. Engraving goes back to cave art, executed on stones, bones and cave walls. The Chinese produced a primitive form of print, the rubbing, as far back as the 2nd century AD. and the Japanese made the first authenticated prints, wood-block rubbings of Buddhist charms, in the late-middle eighth century. It was not till the 18th century that art prints began to be considered originals and not till the 19th that artists began to produce authenticated original prints. Thanks to imaginative artists who have pushed this ancient discipline with spirit, printmaking continues to offer millennia of creative study and investigation in the twentieth century.
Printmaking is a specific manner of creating artwork primarily using a matrix or plate such as wood, plastic, mixed media to create hand-pulled imagery; it embraces a wide variety of techniques. With the works in Impressions, Adell has created original prints in which the artistic design was developed from the plate by hand. This is done either by carving as in linocut, construction as in collagraph or mark-making as in monotypes and monoprints. Following this process it is time to print! The plate is inked, rolled, and pulled on her printing press. Adell's artwork expresses her innovative artistic style and gives the viewer a glimpse into the patient technical procedures and design of printmaking.
These are only a few of the pieces in Adell Shetterly's Impressions show. Come in and see them all!
Contact Adell by email for more information, to make an appointment to view art,
and to purchase.
See a selection of Adell Shetterly's artwork on the Tumalo Art Co. shopping cart for easy purchasing.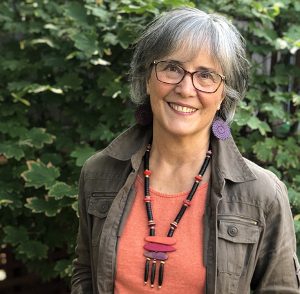 Adell Shetterly creates expressive and innovative original hand-pulled prints integrating abstraction, color and texture. She has an exploratory spirit and draws on encounters with nature, memories and moments of everyday life to create inventive and expressive artworks.
Shetterly studied elementary education at Western Oregon University and worked in education for several years before retiring to explore new opportunities with the City of Troutdale. There she expanded a summer recreation program to a full year program. Using the tools of her education she established a curriculum of community classes for all ages and interests from sports, dance and art and the program grew under her management. Moving to Bend in late 2001, Shetterly soon found a position with Arts Central to build the community arts program. Recruited a few years later, she worked for Atelier 6000 developing their curriculum program of printmaking, book arts and drawing. Inspired by the artists and the students of the two organizations Shetterly began to enroll in workshops. She particularly enjoyed printmaking and studying with Master Printmaker, Pat Clark. Upon retirement in 2013, Shetterly now pursues her love of printmaking, working and studying from her home studio in Bend, Oregon.
Artist Statement: To me, printmaking is an unrestricted creative medium, the design possibilities, techniques and variations on how the combinations of print techniques talk to each other are wide open to interpretation and innovation. When truly engaged in art making time stands still. Lost in creativity and exploration the artistic vision evolves…moving forward or backward…and perhaps it begins anew with a spark of innovation. Motivated to be present in this state of discovery I welcome the journey of creative study.
To see more of Adell Shetterly's artwork visit her website